---
Kilder – Crying At CVS (ft. Alice Longyu Gao)
27 Aprile 2021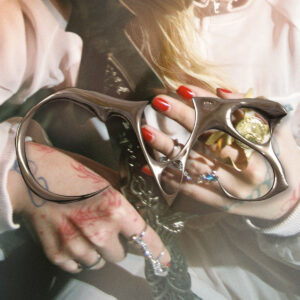 Today sees rising electronic producer Kilder release his brand new single 'Crying At CVS', featuring multi-disciplinary artist, DJ and songwriter Alice Longyu Gao.
'Crying At CVS' is a 21st century diss track delivered with Alice's trademark humour, channelling a cathartic fury familiar to anyone who has got over a bad relationship by celebrating themselves. Kilder's production mirrors the mood by combining celebratory chords with abrasive drums and bass in a style that isn't confined to a specific era or genre – besides his own.
Speaking on the track, Kilder explains:
"I wanted to make something that felt a little bit less serious and more on the fun side of things. M.I.A. is one of the artists who I've been revisiting in the last few months, her song Paper Planes is such a good feeling song that sparked the inspiration of the beat for CVS. But it needed the offset of a punk vocalist for it to work, I've always loved Alice and thought she would be perfect. She came back with the wildest vocal I've ever heard in a while and I loved it right from the start."
Alice adds:
"Kilder is absolutely brilliant and styled the song so well with his production. On the day I wrote it I was thinking about how men treat me like a play-doll, they think they can feed Alice what Alice needs, but hey its ALG, Alice Longyu Gao, I am not just a new bitch on the block. I cry, I laugh, I joke about my traumas and I plot revenge through y songwriting; that's how I made 'Crying at CVS' with Kilder."
As two of the freshest new talents in the industry, Kilder and Alice are a formidable pair with an innate creative connection. Kilder is very quickly moving up the electronic producer league table, with 3 Apple synchs, support from Dazed, Dummy, The Independent, Notion (who dubbed him "one to watch"), Wonderland and 2 million streams despite only starting his career in July 2020 at the age of 19. Alice is returning off the back of her recent alternative hit with 'She Abunai' featuring Mura Masa and Bülow. With strong support from BBC Radio 1/6Music/Apple Music 1, wall to wall Spotify playlisting, glowing praise from Dazed, NME, Paper Mag, The Needle Drop and over 2,000,000 views on TikTok, 'Crying at CVS' is the sound of 2021 if anything is.
---
Opinione dei lettori
---