---
IVORY LAYNE RELEASES NEW MIX OF 'GOD SAVE THE QUEENS'
13 Luglio 2021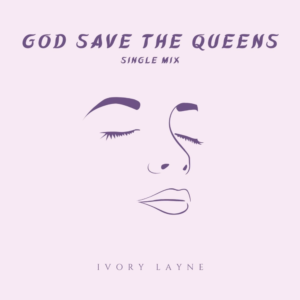 Nashville based singer-songwriter Ivory Layne releases a new single mix for 'God Save The Queens' taken from her 'Confetti' EP.
A further sonic evolution from the surging modern pop rush of Layne's recent critically acclaimed single 'December'; 'God Saves The Queens' is a defiant, heart-swelling anthem of female empowerment.
"God Save The Queens is more than a call to act, it's an anthem to remember the irrepressible power inside of every woman," explains Layne. "I wanted a song celebrating that unified strength, while challenging women to rise up and realise our individual worth beyond mirrors, men, and magazines."
Produced by Ivory Layne and Jimmy Robbins (Keith Urban, Maren Morris, Kelsea Ballerini, Miranda Lambert), the track is a celebration of womanhood in all its forms, delivered in Layne's unique vocal style.
In keeping with the song's celebration of female resilience and unity, the accompanying video features a montage of footage of inspirational females from the past to the present day.  Directed by ​Layne and filmed by Nashville-based videographer Sara Olivera at the all female working space Collective 615, the video brings together a host of female heroes that Ivory admires, from the iconic to the everyday. Spanning late Supreme Court Judge Ruth Bader Ginsburg and Mother Teresa to Nashville broadcaster Libby Oellerich, Canadian high diver Lysanne Richard, Carrie Hope Fletcher, Layne's own mother and many more, it's a film that explores the multifaceted nature of being a woman today.
"​I took to the internet to invite as many women as possible to be a part of this music video".  Ivory explains. "We're featuring chefs, business owners, fashion designers, makeup artists, nurses, athletes, painters, teachers…women with fabulous dreams and ambitions, fascinating thoughts and ideas, specific perspectives and groundbreaking methodology. I wanted to showcase the wonderful spectrum of who women are and what inspires and empowers us. We are more than what we offer to the world; we make up the world."
Tipped for stardom by the likes of Billboard, V Magazine and Live Nation's Ones To Watch, Layne's remarkable talent has garnered critical acclaim as well as attracting a wealth of stellar collaborators. In just a few years, she's worked with Grammy award-winning producer Ed Cash (Dolly Parton, Amy Grant) on her debut EP; collaborated with Andrew McMahon In The Wilderness and Needtobreathe ; written for other artists alongside co-writes with some of Nashville's finest including Jimmy Robbins, Shane McAnally and Lori McKenna. Layne's sharpness in the writer's room has also landed her two global ad campaigns, one for prestigious jewellery house Swarovski and another for cable giant, HBO.
Her Confetti EP, which is the first official EP release since signing with Justin Timberlake's artist development company Villa 40, Layne is primed to cement her reputation as one of the world's finest, rising female talents.
---
Opinione dei lettori
---